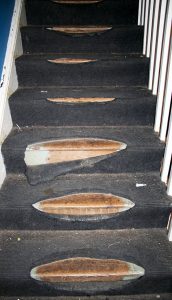 We can assess the interior, exterior and grounds of properties and report on areas that may present hazards and possible insurance claims. The reports are of benefit to Body Corporate, Owners' Corporations, and occupiers and owners of rental of investment properties.
This may include loose or cracked paving, slipping and tripping, stairs and handrails, compliance with standards, peeling paint that may be lead based, asbestos building materials, sharp edges, accessibility for mobility challenged persons (ramps, turning etc) and lighting.
These reports can enable the owner or the owners corporation to plan or carry out repairs or upgrading the property.
We provide photographs and maintenance strategies as standard inclusions, and we can also provide a cost benefit analysis and approximate costs if required.